NORTHWHISTLE PRODUCT TOUR
A Whistleblowing product as it should be: Compliant, safe, and easy to use for both you and your organization.
NorthWhistle – 3 pillars for the complete whistleblowing product
Continuously generate up-to-date policy and communication material. To keep your people informed.
Easy to use reporting via phone, text & voice. So no wrongdoing goes unnoticed.
Handle incoming cases with ease using built-in reminders, a clear overview, and 1:1 communication.
Automatic policy that's always up to date.
As with most things in life, communication is key, in fact, communication is a big part of the EU Whistleblowing directive. At NorthWhistle we offer you the best tools to generate and communicate your new whistleblowing policy so that you will always be up to date without any additional legal fees.
So you can focus on what matters, your business and your people.
Easily generate a personalized whistleblowing policy fit for the requirements of your EU country. Saving you time and legal costs.
An easy and discrete way to access your reporting tool, for colleagues on the floor.
Automatically stay up to date with changes in legislation by letting NorthWhistle handle it for you.
Generate the communications material needed to clearly communicate about whistleblowing to your organization in acordence with the EU directive.
Filing a report, according to the directive & beyond.
NorthWhistle helps your organization report wrongdoing in the most protected and comfortable way. We support reporting in text and voice, always fully anonymous. All according to high accessibility standards (WCAG 2.1) – so no case goes unheard.
A reporting style that fits your organization best.

With NorthWhistle your colleagues can report via form, chat and phone across devices. Always with the options to configure and adapt questions and forms after your unique needs.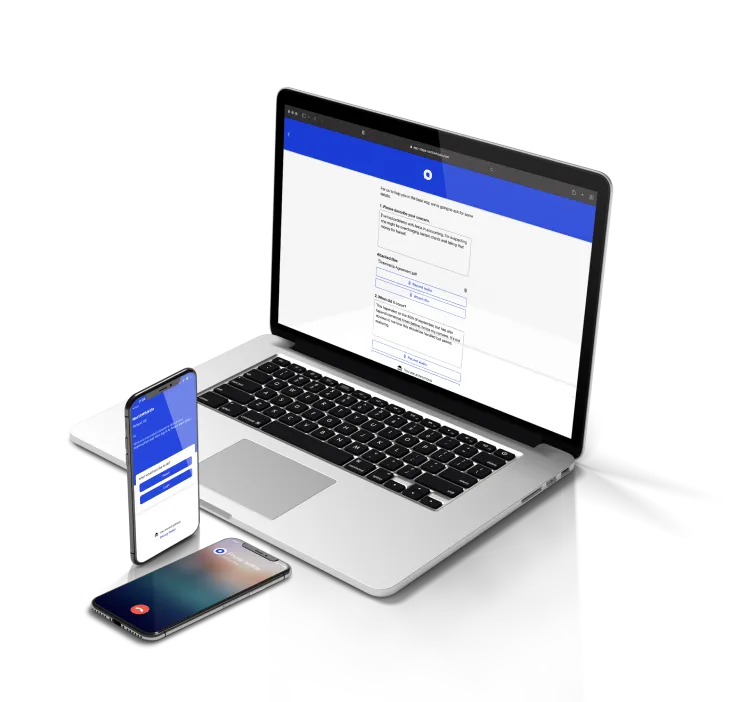 We go to great lengths to keep whistleblowers anonymous at all times. Voice messages are scrambled, files are stripped of metadata and all communication is end-to-end encrypted.
Accessibility is key to making sure no wrongdoing goes unreported. we adhere to WCGA 2.1 AA to ensure this.
Our commitment to security is absolute. We use the best security practices and work with third parties to continuously perform security tests to ensure the highest level of security and compliance.
Make your reporter feel at home with your own brand inside the reporting platform.
Voice report with scramble
Anonymized file attachments
Customizable reporting forms
Resolving a case, with ease.
Whistleblowing can be complex, but we believe administrating a case shouldn't be. NorhtWhistle gives you an overview of all cases, helps you take them to the next step and automatically reminds you of important deadlines. You can easily control what each case handler should see and invite third parties to a specific report.
Our tool has all the features you need right at your fingertips, we make it easy to manage complex tasks.
The EU directive comes with strict requirements around deadlines for case handlers, our system ensures you never miss one.
All actions are logged and easy to access to ensure a tamper-free process. this along with the full case history can also be exported. 
We support the languages you need, not only in the reporter flow but also in the admin panel. 
Deadline monitoring and reminders
All our plans come with automatic onboarding that helps you get compliant within 30 minutes.
Should you need it we also supply premium onboarding with one of our product experts free of charge.